Robert May was staring out his Montgomery Ward office window in Chicago at the thick fog over Lake Michigan in 1939 when the creation of Rudolph came to him.
Robert May was a low-paid, in-house advertising copywriter for Montgomery Ward when his boss asked him to write a Christmas book for shoppers to replace the coloring books they had been buying and giving out to customers. Designing their own book would save money and May was known from holiday parties to have a way with limericks and parodies.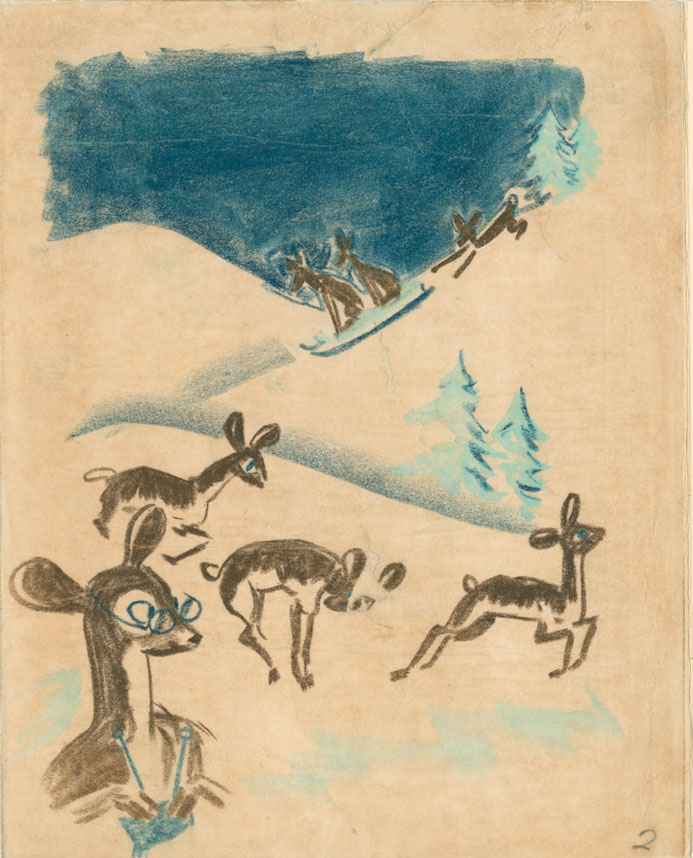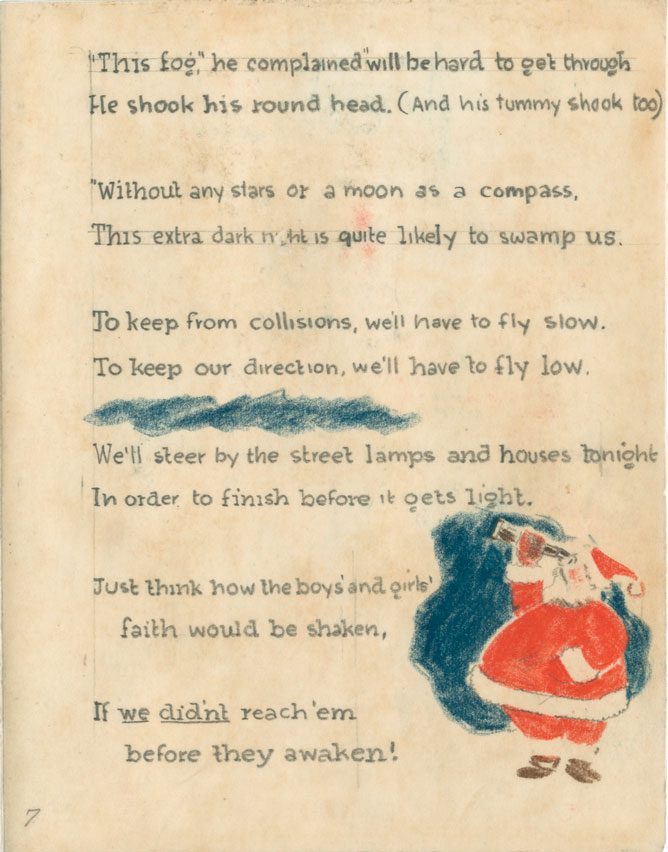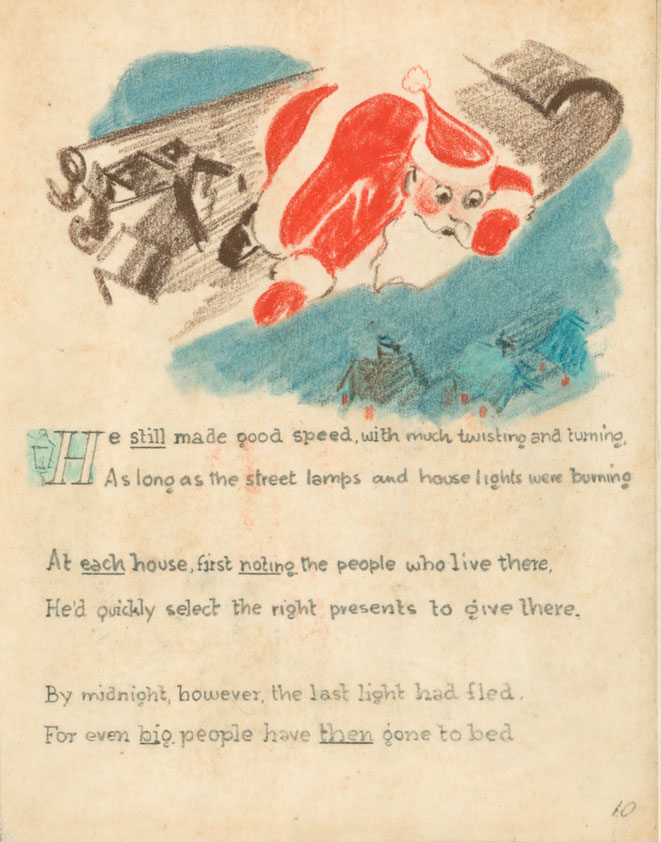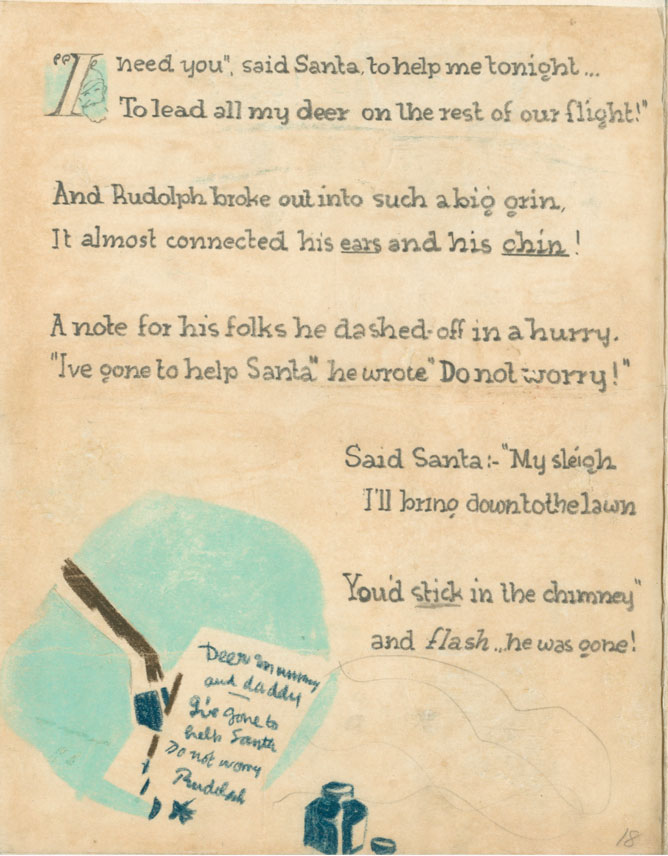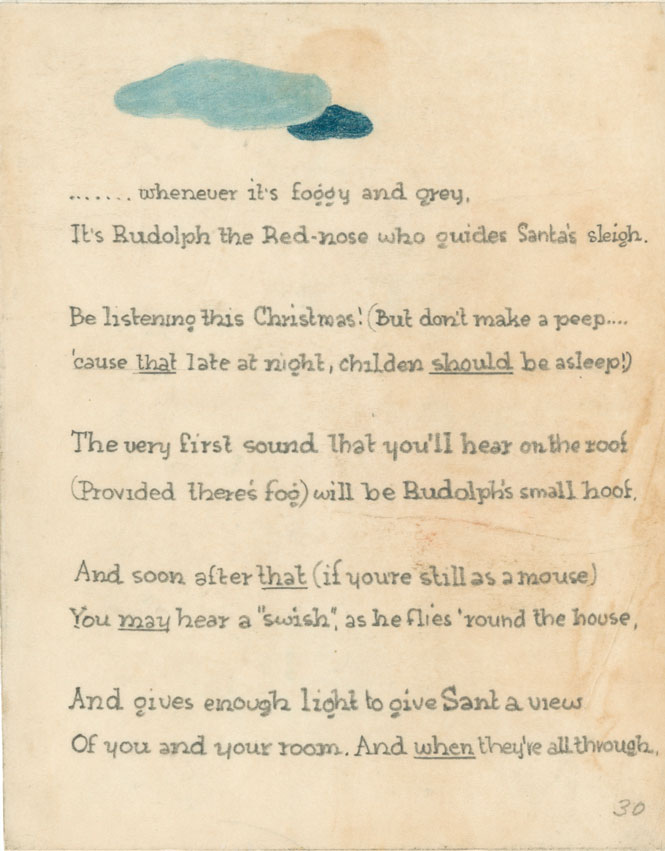 Robert's wife Evelyn had contracted cancer in 1937 and was quite ill when he started the project in early 1939 but found his 4 year old daughter, Barbara an ideal companion in developing the character of a reindeer based on the deer she loved at the Lincoln Park Zoo. He would read verses and chapters to her to make sure it was entertaining to children.
May saw himself as an outcast having been a nerdy kid and now at age 35, far from reaching his dream of writing the Great American Novel – instead knocking out catalog copy.
"He came back with the story of an underdog, red-nosed reindeer who was in the right place at the right time — just when Santa needed a reindeer with exceptional skills."
His boss's original reaction was "Can't you come up with anything better?" – in part due to the association of alcoholics with large red noses.
May had a friend in the art department draw up some sketches which helped convince his boss.
1823: Twas the Night Before Christmas
"A Visit from St. Nicholas", more commonly known as "The Night Before Christmas" was a poem by Clement Clarke Moore and called "arguably the best-known verses ever written by an American".
It also sets in place the brand we now know as Santa from the mid-nineteenth century until today. The flying "8 tiny reindeer", the gift giving and chimney teleportation all started here with Moore's poem.
Anapestic tetrameter is the beat of a poem where two syllables are short and unstressed, followed by a third syllable that is long. Twas The Night Before Christmas follows this beat as does most Dr. Seuss
An Email Marketing Poem in the spirit of Twas the Night Before Christmas
Read this wonderfully articulated Email Marketing poem by Brian Macreadie to the anapestic tetrameter beat to warm you up for the rest of the Rudolf story below.
The gift that kept on giving.
2.4 million copies were distributed and shoppers loved the Rudolph poem. War time restrictions on paper prevented a reissue until 1946 when 3.6 million we're again given out. That same year, Sewell Avery, Montgomery Ward's president gave Robert May the rights to Rudolph free and clear – something they had never done, after fellow employees lobbied for May who's mountain of medical debt from his wife's illness weighed on his family.
May was then able to accept offers for a spoken word poem of Rudolph along with an updated print edition of the book which went on to be a best seller.
In 1947, Robert May's sister Margaret married song-writer Johnny Marks (Rockin Around the Christmas Tree, A Holly Jolly Christmas) who then went on to pen the 1949 song "Rudolph the Red-Nosed Reindeer."
Bing Crosby turned down the offer to sing as did Gene Autry until his wife persuaded him to cover it as a b-side. Sales have since exceeded 150 million copies second only to White Christmas.
1964: General Electric Lights the Nose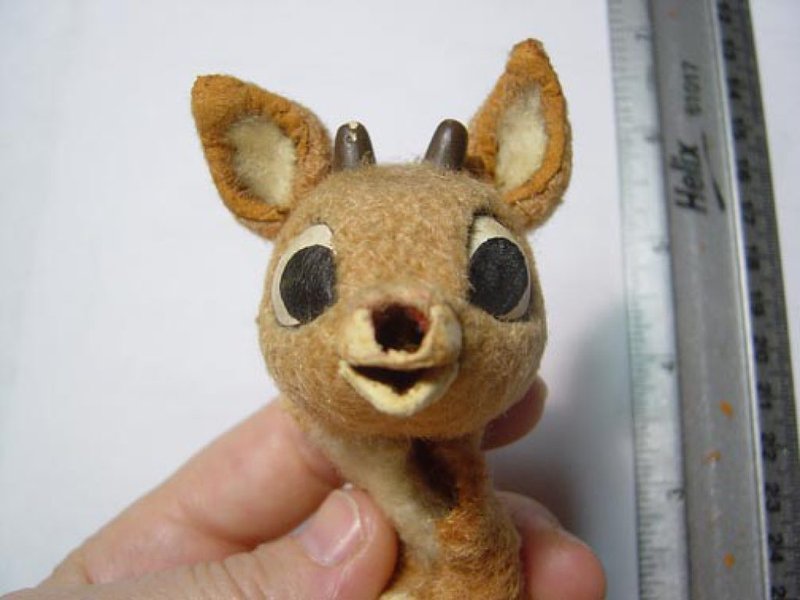 The General Electric Fantasy Hour aired the stop motion animated Rudolph Christmas special the first time on December 6, 1964 and it has aired every year since making it the longest continuously running Christmas TV special in history – which is interesting as GE expected to run it only 2 years.
The special is based on Johhny Mark's song and not May's poem as the teleplay writer Romeo Muller could not find a copy of May's original book. Marks wrote all the music and songs featured in the special and even snuck in 'Rockin' around the Christmas tree as background music when Rudolph first arrives at the reindeer games.
"This might be my favorite [content marketing story] of all time."
Robert Rose – This Old Marketing Podcast
Content Marketing: a type of marketing that does not explicitly promote a brand but is intended to stimulate interest in its products or services.
Robert Rose, content marketing expert tells this story of Rudolph and describes it as possibly his favorite content marketing story of all time.
Robert Rose & Joe Pulizzi ran a podcast on content marketing once a week for four years without missing a single episode until it ended in 2017. Based off of the "This Old House" TV show, Robert and Joe would look back in time for examples of marketing that resembled today's definition of content marketing but done as far back in marketing history as they could go.
It's been said that the best marketing doesn't feel like marketing. It seems a better definition might be the best marketing changes people's lives. Not only is the Rudolph story a great example of content marketing but clearly the efforts of Montgomery Ward, Robert May and then General Electric have done exactly that – changed people's lives and continues to do so decades after the initial marketing efforts.
Is advertising dead?
Robert and Joe have said countless times it's no more dead than radio (when TV busted into our homes) is but clearly the emerging model in marketing is to give people something of value to begin a conversation.
With ease of blogging, videos, emails and social media, we need to be talking with our audiences and not selling them.
As you re-live your childhood this season and watch your family take part in tradition that will build into their memories for decades to come, let's think of Rudolph and how we might inspire our audiences.
What ideas and stories can we give people that do more than sell our products and services but inspire and make a difference in their lives? Let's talk about how we can do that together in 2019!
Cheers!